Event Calendar
This calendar is set up by city to make it easier to search what is happening near YOU!
Oct
22
Thu
Telling Your Story with a Purpose Workshop

@ Online Zoom
Oct 22 @ 7:00 pm – 9:00 pm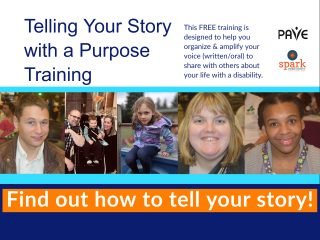 FREE training designed to help you organize & amplify your voice (written/oral) to share with others.
Register to get the links to join any of our telling you story training or workshops.
First,  join one of our training days to learn to prepare a 2 min speech.
Second, practice at our October workshops! work in small groups to improve your delivery.
Last, tell your story whenever and wherever you want.
More information at PierceLegislativeForum.org
Nov
6
Fri
Zoom Online – People First Pierce County Meeting

@ Zoom Online
Nov 6 @ 2:00 pm – 3:00 pm
New members are welcome!
We are people first, our disabilities are secondary!
We are part of a strong and growing statewide self-advocacy organization since 1981 when we were officially incorporated and received our 501-c-3 status. We are part of a professional organization with:
A board of directors composed of members with disabilities representing all areas of the state. They oversee the organization and its activities.
We are 1 of over 30 active chapters around the state of Washington with a membership of over 1,000 individuals. We are one of the top self-advocacy organizations in the United States.
We also have numerous resources for training materials on self-advocacy, leadership, fundraising, etc.
EDUCATE, ADVOCATE, CELEBRATE