PAVE has created a suggested list of activities to follow every day this summer. Give yourself grace if you cannot do everything on the list. Nobody is keeping track. Your reward will be a healthy mindset! Type Mindfulness into the search bar on our website to find other articles and videos to support self-care for everyone in the family.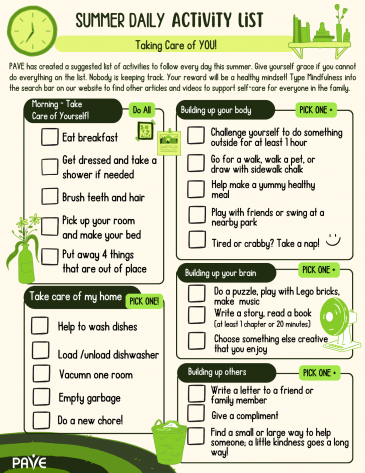 Click to view this list in PDF form
Start the day with a self-care routine – Do all!
Eat breakfast
Get dressed and take a shower if needed
Brush teeth and hair
Pick up your room and make your bed
Put away four things that are out of place
Take care of your home – Pick one!
Help to wash dishes
Load /unload the dishwasher
Vacuum one room
Empty the garbage
Do a new chore!
Build your body – Pick one or more!
Challenge yourself to do something outside for at least one hour
Go for a walk, walk a pet, or draw with sidewalk chalk
Help make a yummy healthy meal
Play with friends or swing at a nearby park
Tired or crabby? Take a nap!
Build your brain
Build your brain – Pick one or more!
Do a puzzle, play with Lego bricks, make music
Write a story, read a book (at least 1 chapter or 20 minutes)
Choose something else creative that you enjoy
Build up others – Pick one or more!
Write a letter to a friend or family member
Give a compliment
Find a small or large way to help someone: a little kindness goes a long way!